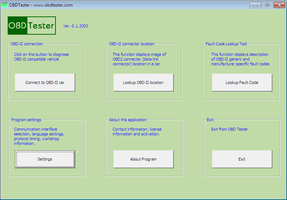 Read more about OBDTester, professional OBD2 diagnostic software

Order ELM-USB
, an universal multi-protocol OBD-2 ELM32x compatible USB interface
OBDTester
The following downloads are password protected. Please use your interface serial number (characters after ELM-USB- for OBDTester and full serial number for other programs) as the username and leave password field blank (empty).
Documentation
Coding manuals for our tools are no longer updated and will be removed, please refer to
DiagWiki.com
instead.
pyOBD downloads
PyOBD
source code and packages are available
here
.
Third-party free software
If you need further assistance, contact us using contact form.
See also