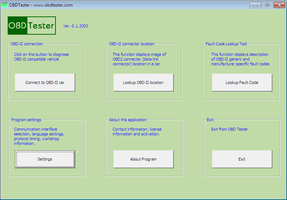 Read more about OBDTester, professional OBD2 diagnostic software

Order ELM-USB
, an universal multi-protocol OBD-2 ELM32x compatible USB interface
OBDTester
The following downloads are password protected. Please use your interface serial number (characters after ELM-USB- for OBDTester and full serial number for other programs) as username and password.
Drivers
There are no special ELM-USB drivers required for Linux (kernel 2.6.x).
Documentation
pyOBD downloads
PyOBD
source code and packages are available
here
.
Third-party free software
If you need further assistance, contact us using contact form.
See also