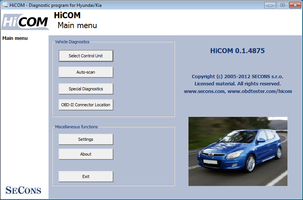 Click here for more HiCOM screenshots

This is original
high quality product
with 2-year warranty. We do not sell Chinese clones.

The software is with
free updates
of diagnostic functions and
technical support
.

Latest Hi-COM version
is
?
2023-03-14 0.1.8942
Reworked user interface scaling algorithm
2023-03-08 0.1.8930
Application crash fixed: Reading and decoding DTC Freeze Frames data.
2022-12-19 0.1.8686
Experimental turbo communication mode for KWP2000 protocols (faster live data sampling rate)
2022-12-14 0.1.8657
Improved live data functionality: last choice is remembered between reconnections.
2022-11-17 0.1.8459
Added key coding functions for ISO14229 UDS Immo ECUs
2022-11-17 0.1.8459
Added new coding functions for ISO14229 UDS Engine ECUs
2022-10-10 0.1.8248
Improved application stability during communication interruptions with the control unit.
2022-08-22 0.1.7977
Improved security-access (seed-key) support for coding operations
2022-07-18 0.1.7944
Fixed issue with fault code database
2022-07-08 0.1.7943
Improved fault codes database
HiCOM
HiCOM is diagnostic tool for Hyndai and Kia vehicles. It supports all OBD2 compliant vehicles since 1996 (see
detailed ECU coverage
).
Hardware
Our OBD2 to USB HiCOM interface contains 10 multiplexed ISO9141 K-Lines, high-speed CAN-BUS and analog measurement circuits. Supported protocols include ISO15765, KWP2000 and ISO9141.
For immobilizer programming we provide SMATRA pin code service.
Key features
Fully multiplexed all-in-one smart USB2.0 interface
Automatic ECU recognition
Automatic vehicle scan (screenshot)
ECU Identification (screenshot)
Fault code (DTC) reading (screenshot)
Freeze frame reading (screenshot)
Fault code clearing
Live data recording
Diagnostic protocol printing
Actuator tests (screenshot)
Control unit coding (screenshot)

ECU resets & installation
Common-rail injector calibration coding
SMARTRA Key coding
Coverage
Full ECU coverage listing is available here
Ordering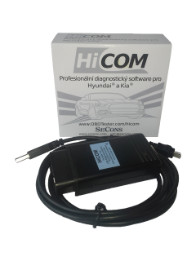 You'll get: HiCOM OBD2 USB interface, USB cable, quickstart sheet. All this packed in a box. Software download online (software on CD-ROM on request only, the software outdates very quickly, so please consider if you really need installation media). Everything is packed in bubble-mailer and all shipment are 100% insured. For more information see
global product order page
. We provide standard 2-year warranty for our products.
You can purchase extended 5-year hardware warranty for your diagnostic interface within 14 days of delivery date:
See also
.