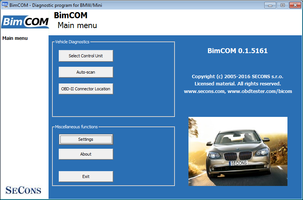 Click here for more BimCOM screenshots

Play BimCOM video tutorials.

The latest BimCOM version
is
?
2018-03-01 0.1.6132
Added CAS-DME rolling code synchronisation to less common ECUs
2018-01-17 0.1.6015
Added overvoltage battery check before connection.
2018-01-16 0.1.5999
Improved Land Rover and MG/Rover ECUs functionality
2018-01-12 0.1.5973
Improved Landrover Freelander 1997-2006 support
2018-01-05 0.1.5934
Added engine idle speed test for Bosch EDC15C4 (M57 engine)
2018-01-05 0.1.5905
Added injection correction amount test for Bosch EDC15C4 (M57 engine)
2018-01-04 0.1.5865
Added compression test for Bosch EDC15C4 (M57 engine)
2017-11-13 0.1.5837
Improved fault reporting (KWP2000/CAN/UDS response codes decoding)
2017-10-26 0.1.5777
Added new configuration types to BMW 7 series (F01) ECUs
2017-10-04 0.1.5764
Added TMS Lear Xenon lights + ELSV coding in BDC, FEM20 and FRM3 ECUs
BimCOM
BimCOM is diagnostic tool for BMW/Mini vehicles. It supports all vehicles since 1996 using OBD2 or BMW-20 pin diagnostic socket. BMW Motorrad (motorcycles) support is in very early stages (please see
BMW Motorrad coverage
). BimCOM is easy to use. It uses VAG-COM-like user interface, but easy to use for people familiar with dealer tools such as BMW ISTA/D, ISTA/P, BMW DIS/GT1. BimCOM comes with OBD2 to USB interface and is designed to work on Windows 2000/XP/Vista/7/8/10 or Linux or Mac OS/X (using Wine emulation). Hardware requirements are very low compared to dealer-tools.
Hardware
Our OBD2 to USB BimCOM interface contains 2 multiplexed ISO9141 K-Lines and L-Line, high-speed CAN-BUS and analog measurement circuits. Supported protocols include K1, KW-71, DS-1, DS-2, KWP2000* (KWP2000-star), KWP2000, BMW-Fast, D-CAN/KWP and UDS ISO14229.
Key features
Fully multiplexed all-in-one smart USB2.0 interface
Automatic ECU recognition
Automatic vehicle scan (screenshot)
ECU Identification (screenshot)
Fault code (DTC) reading (screenshot)
Fault code clearing
Freeze frame reading (screenshot)
Live data recording
Diagnostic protocol printing
Actuator tests (screenshot)
Control unit coding (screenshot)
Configuration (screenshot, video)
Please use
our contact form
if you wish to get more information about BimCOM.
If you are car owner and decide to purchase the BimCOM, we'd be very happy if you can provide data from your car to help us further improve BimCOM. We're open also to any improvements recommendations or feedback.
---
Order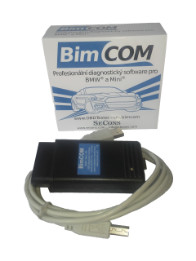 You'll get: BimCOM OBD2 USB interface, USB cable, quickstart sheet. All this packed in a box. Software download online (software on CD-ROM on request only, the software outdates very quickly, so please consider if you really need installation media). Everything is packed in bubble-mailer and all shipment are 100% insured. For more information see
global product order page
. We provide standard 2-year warranty for our products. Optional
carrying case
is available.
You can purchase extended 5-year hardware warranty for your diagnostic interface within 14 days of delivery date:
Documentation
In addition to documentation below you migh find useful also
DiagWiki.com
tutorials related to BimCOM.