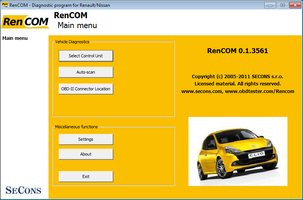 Click here for more RenCOM screenshots

The software is with
free updates
of diagnostic functions and
technical support
.
2017-02-22 0.1.3720
Added code to resolve compatibility issues with non-standard ISO14230/KWP2000 ECUs
2016-10-13 0.1.3703
Fixed Nissan DDL protocol communication issue
2016-04-19 0.1.3680
Fix for light truck (Trafic/Vivar/Master/...) CAN-BUS communication problem
2016-01-21 0.1.3678
Added injector coding for Siemens SID 301/305/306.
2016-01-21 0.1.3678
Added injector coding for Delphi DCM 1.2 and DCM 3.4.
2016-01-21 0.1.3678
Added injector coding for Bosch EDC15C3, EDC16C3 ,EDC16CP33, EDC17C11.
2015-12-03 0.1.3649
Added TPMS tire valve reading/learning for Dacia models
2015-11-24 0.1.3571
Added TPMS tire valve reading/learning for Megane/Scenic 2008-
2015-11-04 0.1.3548
Improved user interface for Windows tablets
2015-10-01 0.1.3497
Added key coding on newer vehicles
RenCOM
RenCOM is diagnostic tool for Renault, Nissan, Infiniti and Dacia vehicles. It supports all OBD2 compliant and pre-OBD2 vehicles since 1996. We tried to maintain compatibility with dealer tools such as Renault Clip, Nissan Consult II and III where possible. RenCOM also maintains compatibility with Renault/Nissan documentation/service manuals and Renault Dialogys.
RenCOM comes with OBD2 to USB interface and is designed to work on Windows 2000/XP/Vista/7/8/10 or Linux or Mac OS/X (using Wine emulation). Hardware requirements are very low compared to dealer-tools.
Due to high demand on this product, RenCOM is currently provided in form of beta version, but it still comes with customer satisfaction guarantee. The beta version has some known problems that cannot be resolved without cooperation with customers. We're trying to be as transparent as possible: detailed RenCOM diagnostic coverage is available here. Please use our contact form to get more information about RenCOM
Hardware
Our smart OBD2 to USB RenCOM multiplexer (interface) provides connection via ISO9141 K-Line, high-speed CAN-BUS, mid-speed CAN-BUS,
Nissan DDL
bus and analog measurement circuits. Supported protocols include ISO15765, KWP2000, RenaultISO and
Nissan DDL
.
Key features
Fully multiplexed all-in-one smart USB2.0 interface
Automatic ECU recognition
Automatic vehicle scan (screenshot)
ECU Identification (screenshot)
Fault code (DTC) reading (screenshot)
Fault code clearing
Live data recording
Diagnostic protocol printing
Actuator tests (screenshot)
---
Order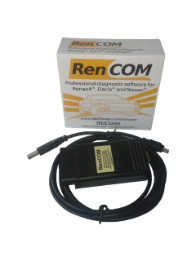 You'll get: RenCOM beta version OBD2 USB interface, USB cable, quickstart sheet. All this packed in a box. Software download online (software on CD-ROM on request only, the software outdates very quickly, so please consider if you really need installation media). Everything is packed in bubble-mailer and all shipment are 100% insured. For more information see
global product order page
. We provide standard 2-year warranty for our products.
Please note that Nissan part of RenCOM is completely new feature and it is also subject for further development/improvement.
Documentation
In addition to documentation below you migh find useful also
DiagWiki.com
tutorials related to RenCOM.