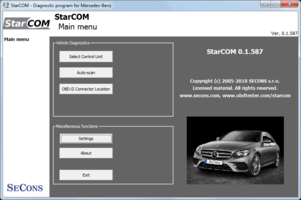 Click here for more StarCOM screenshots

The software is with
free updates
of diagnostic functions and
technical support
.

Play StarCOM video tutorials.
2023-05-25 0.1.5417
Autoscan now distinguishes between ECUs where reading DTC failed and ECUs without DTC memory function
2023-05-11 0.1.5412
Added warning about wrong model selection based on VIN
2023-05-03 0.1.5372
CAN-BUS frame transmission improvements for communication with multiple ECUs
2023-05-01 0.1.5364
Added support for diagnostic firewall (security gateway) on Mercedes-Benz Sprinter 2022
2023-04-26 0.1.5279
Improved Mercedes-Benz Sprinter (W907) support
2023-03-14 0.1.5125
Reworked user interface scaling algorithm
2022-12-19 0.1.5074
Experimental turbo communication mode for KWP2000 protocols (faster live data sampling rate)
2022-12-14 0.1.5063
Improved live data functionality: last choice is remembered between reconnections.
2022-10-10 0.1.5037
Improved application stability during communication interruptions with the control unit.
2022-09-02 0.1.5011
Fixed connection issues with some DCM/TSG ECUs
StarCOM
StarCOM is a diagnostic tool designed specifically for Mercedes-Benz and Smart vehicles. Currently, the tool is in the beta version phase, which means that there may still be some issues. We've put a lot of effort into implementing a comprehensive range of functions to outcompete other diagnostic tools. That being said, there may still be some areas where we can improve. We welcome any feedback or suggestions from our users so that we can continue to enhance StarCOM's functionality and ensure that it's the best possible diagnostic tool for Mercedes-Benz and Smart vehicles on the market.
With StarCOM, you'll receive an OBD2 to USB interface. The tool is designed to work on a variety of operating systems, including Windows 2000/XP/Vista/7/8/10, Linux, and Mac OS/X (using Wine emulation). Unlike dealer tools, StarCOM has very low hardware requirements and is very quick.
Hardware
Our OBD2 to USB diagnostic interface contains 10 multiplexed ISO9141 K-Lines, high-speed CAN-BUS and analog measurement circuits. Supported protocols include KWFB, KWP2000 (plain and gateway/D2B connection), KWPCAN, UDS.
Key features
Fully multiplexed all-in-one smart USB2.0 interface
Automatic ECU recognition
Automatic vehicle scan (screenshot)
ECU Identification (screenshot)
Fault code (DTC) reading (screenshot)
Fault code clearing
Freeze frame reading (screenshot)
Live data recording
Diagnostic protocol printing
Actuator tests (screenshot)
Control unit coding (screenshot)
Configuration (screenshot, video)
Please use
our contact form
if you wish to get more information about PoCOM.
Order
We provide standard 2-year warranty for our products. Please note you are ordering
BETA VERSION
, make sure you know StarCOM functionality before placing an order.
You can purchase extended 5-year hardware warranty for your diagnostic interface within 14 days of delivery date:
Documentation
In addition to documentation below you migh find useful also
DiagWiki.com
tutorials related to StarCOM.