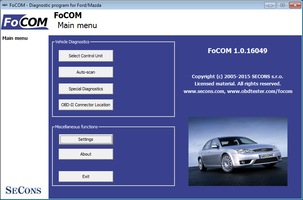 Click here for more FoCOM screenshots

Play FoCOM video showing real diagnostic session.

View FoCOM frequently asked questions section.

Latest FoCOM version
is
?
2014-03-07 1.0.12394
Improved Jaguar/Landrover ECU coverage.
2014-02-12 1.0.12329
Initial support for US Land Rover models
2014-02-12 1.0.12329
Added initial support for Land Rover Discovery 3
2014-02-12 1.0.12329
Special diagnostics Volvo CAN 2000/2005 improved connection to ECU
2014-02-10 1.0.12288
Mondeo/Galaxy/S-Max Convers+ odometer direct change
2014-02-10 1.0.12280
BCM CCF configuration read/write on Mondeo 2007-2010
2014-02-05 1.0.12231
Improved Jaguar coverage (2010+ models)
2014-01-24 1.0.12210
Key coding on Focus 2011+ (requires valid INCODE)
2014-01-16 1.0.12198
IPC replacement (odometer) coding on Transit 2006-2013
2014-01-04 1.0.12141
Initial support for Focus/C-Max BCM configuration reading
FoCOM
FoCOM is diagnostic software for Ford vehicles, which includes Ford, Mazda, Lincoln, Mercury, Jaguar, Land-Rover and Aston-Martin. FoCOM comes with OBD2 to USB interface and is designed to work on Windows 2000/XP/Vista/7/8 or Linux or Mac OS/X (using Wine emulation).
Please use our contact form to get more information about FoCOM.
Key features
Support for wide range of ECUs and models (ECU selection screenshot)
Easy connection via smart USB to OBD2 interface
Wide range of communication protocols and buses covered: J1850 PWM, ISO, CAN (HS-CAN & MS-CAN)
Automatic ECU recognition
Automatic vehicle scan (screenshot)
ECU Identification (screenshot)
Fault code (DTC) reading (screenshot)
Fault code clearing
Live data recording
Diagnostic protocol printing
Actuator tests (screenshot)
Control unit coding (screenshot), including:

PATS Immobilizer operations (timed & coded using PATScode.com)
Injector coding
DPF (FAP) regeneration

Flash and serial memory programming functionality will be available shortly in special FoCOM programming edition (flash programming is NOT supported by FoCOM now).
Click here to see program screenshots.
.
Coverage
FoCOM is able to connect to control units on all Ford vehicles 1996-2013. ECU identification, fault code memory reading and clearing works on all control units. Live data is available on all important ECUs in models such as Mondeo, Focus, Fiesta and other. Actuator tests and coding is available for most demanded control units, more are added every update.
FoCOM detailed coverage listing is available here
. FoCOM also supports experimental diagnostics for
Volvo
.
Technical support
In addition to the free updates of diagnostic functions, the software also comes with limited technical support: if you connect to a car that has any unsupported ECUs or some function does not work as expected, do not hesitate to contact us via e-mail or phone. We'll try to resolve your issue as quickly as possible.
Documentation
Order
You'll get: FoCOM OBD2 USB interface, USB cable, CD-ROM with software and drivers, quickstart sheet. All this in plastic box. Everything is packed in bubble-mailer and all shipment are 100% insured. For more information see
global product order page
. We provide 2 years warranty for our products.
Read why should you buy our products
.
Existing customers who have purchased FoCOM diagnostic interface before 2012 can upgrade their interfaces by placing order on
FoCOM interface upgrade page
.
Software modules order
Important notice: in order to use FoCOM odometer correction module, you already need to have our FoCOM diagnostic interface or purchase module along with FoCOM above.
The module does not ship - you will be able to download it via Internet after we receive your payment. Please use our contact form to get more information about FoCOM odometer correction module.
See also