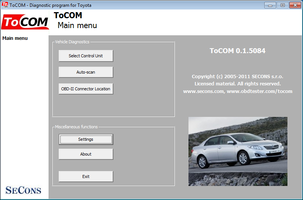 Click here for more ToCOM screenshots

Play ToCOM video tutorials.

This is original
high quality product
with 2-year warranty. We do not sell Chinese clones.

Latest ToCOM version
is
?
2023-05-25 0.1.8788
Autoscan now distinguishes between ECUs where reading DTC failed and ECUs without DTC memory function
2023-03-14 0.1.8768
Reworked user interface scaling algorithm
2023-01-16 0.1.8732
Fixed issue related to incorrect response for CAN GW protocol.
2022-12-14 0.1.8709
Improved live data functionality: last choice is remembered between reconnections.
2022-11-06 0.1.8680
ISO-14229 (UDS) protocol improvements
2022-10-10 0.1.8568
Improved application stability during communication interruptions with the control unit.
2022-09-07 0.1.8533
Improved ECU identification for KWP2000/CAN systems
2022-09-06 0.1.8525
Added initial support for actuator tests on ISO 14229 UDS protocol
2022-09-06 0.1.8480
Fixed various issues on older ISO9141 ECUs
2022-09-02 0.1.8389
Fixed DTC reading on some older engine ECUs
ToCOM
ToCOM is diagnostic software for Toyota, Lexus and Scion vehicles.
Please use our contact form to get more information about ToCOM.
Key features
Support for wide range of ECUs and models (Vehicle and ECU selection screenshot)
Easy connection via smart USB to OBD2 interface
Designed to maintain compatibility with dealer tool (see comparison with Toyota Techstream)
Automatic ECU recognition
Automatic vehicle scan (video)
ECU Identification (screenshot)
Fault code (DTC) reading (screenshot)
Fault code clearing
Freeze frame (screenshot)
Monitor function (Engine readiness) (screenshot)
Live data recording
Diagnostic protocol printing
Actuator tests (video)
Control unit coding and adjustments ("utility" function)
Control unit configuration (customization) (video)
Beta version customer satisfaction guarantee
Due to high demand on this product, ToCOM is currently provided in form of beta version, but it still comes with customer satisfaction guarantee. The beta version has some known problems that cannot be resolved without cooperation with customers. We're trying to be as transparent as possible:
detailed ToCOM diagnostic coverage is available here
, all currently known issues are described below.
14-days money-back guarantee if you will not be happy with the product.
All customers are eligible for free updates.
If you encounter any problem, please let us know. We'll try to resolve any issues as quickly as possible.
The product comes with full user support.
Known problems
Order
You'll get: ToCOM OBD2 USB interface, USB cable, CD-ROM with software and drivers, quickstart sheet. All this in plastic box. Everything is packed in bubble-mailer and all shipment are 100% insured. For more information see
global product order page
. We provide 2 years warranty for our products.
Read why should you buy our products
.
Important notice: You are ordering beta version of ToCOM. Please read this page carefully to understand all limitations of beta version.
See also