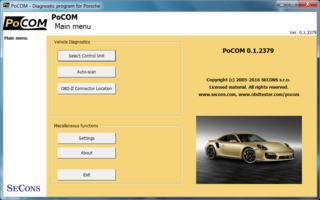 Click here for more PoCOM screenshots

The software is with
free updates
of diagnostic functions and
technical support
.

Play PoCOM video tutorials.

Latest PoCOM version
is
?
2020-11-09 0.1.6610
Added parking brake coding to new Cayenne and Panamara (2018+)
2020-10-28 0.1.6601
Improved user interface - keyboard usage
2020-07-07 0.1.6518
Added workshop identification to all reports
2020-06-18 0.1.6488
Added Bosch diesel injector IMA code validity verification in injector coding
2020-05-20 0.1.6457
Fixed issues with some older ECUs (964, 993, 928, ...)
2020-04-23 0.1.6343
Autoscan results are now alphabetically sorted
2020-02-15 0.1.6291
Fixed DTC support on older EDC KWP2000 systems
2020-02-02 0.1.6204
Added new coding in CAN/CAN GW for resolving battery drain issue
2020-01-30 0.1.6174
Fixed Siemens/Continental SDI8 CAN ECU live data
2019-12-25 0.1.6158
User interface improvements - support for large texts (error messages, instructions, etc.)
PoCOM
PoCOM is diagnostic tool for Porsche. It supports all OBD2 compliant vehicles since 1996. We tried to maintain compatibility with PIWIS and PIWIS II dealer tools where possible. Also people who use VAG-COM/VCDS® or used Durametric scantool will be familiar with the application.
PoCOM comes with OBD2 to USB interface and is designed to work on Windows 2000/XP/Vista/7/8/10 or Linux or Mac OS/X (using Wine emulation). Hardware requirements are very low compared to dealer-tools.
Hardware
Our OBD2 to USB PoCOM interface contains 2 multiplexed ISO9141 K-Lines and L-Line, high-speed CAN-BUS and analog measurement circuits. Supported protocols include KW-71, KW-1281, KWP2000, VW TP1.6, VW TP2.0, ISO15765 and UDS ISO14229.
We do not supply Porsche round connector at this moment. Pre-1996 Porsche models with round Porsche connector are covered, but third party adapter must be used and functionality cannot be 100% guaranteed. Durametric/Sensolutions adapter should work with PoCOM, in case of any problems, please contact us.
Key features
Fully multiplexed all-in-one smart USB2.0 interface
Automatic ECU recognition
Automatic vehicle scan (screenshot)
ECU Identification (screenshot)
Fault code (DTC) reading (screenshot)
Fault code clearing
Freeze frame reading (screenshot)
Live data recording
Diagnostic protocol printing
Actuator tests (screenshot)
Control unit coding (screenshot)
Configuration (screenshot, video)
Please use
our contact form
if you wish to get more information about PoCOM.
Order
We provide standard 2-year warranty for our products.
You can purchase extended 5-year hardware warranty for your diagnostic interface within 14 days of delivery date:
Documentation
In addition to documentation below you migh find useful also
DiagWiki.com
tutorials related to PoCOM.
.
.