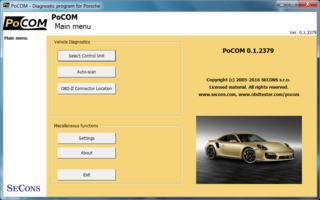 Click here for more PoCOM screenshots

The software is with
free updates
of diagnostic functions and
technical support
.
2017-09-15 0.1.3428
Improved Macan 95B support
2017-09-13 0.1.3424
Added configurations for Cayenne 955/957 body ECUs
2017-09-08 0.1.3416
Improved Cayenne 958 functionality
2017-09-07 0.1.3407
Added over 400 configuration options to Cayenne/Panamera 958/970 instrument cluster (KOMBI) ECU
2017-08-29 0.1.3336
Added VIN change function for ISO14229 UDS ECUs
2017-08-29 0.1.3319
Fixed ECU coding value decoding
2017-08-29 0.1.3319
Added support for Cayenne 957 PCM3/CDR3 ECU
2017-08-28 0.1.3297
New freeze frame decoding on Siemens/Continental SDI3, SDI4 and all 9x7 body ECUs
2017-08-26 0.1.3296
Improved PCM3 systems coverage
2017-08-24 0.1.3281
Added new ECU recognitions for Porsche Cayman 987
PoCOM
PoCOM is diagnostic tool for Porsche. It supports all OBD2 compliant vehicles since 1996. We tried to maintain compatibility with PIWIS and PIWIS II dealer tools where possible. Also people who use VAG-COM/VCDS® or used Durametric scantool will be familiar with the application.
The tool is currently available only to a closed beta testers group.
Please use our contact form if you wish to get more information about PoCOM.
PoCOM comes with OBD2 to USB interface and is designed to work on Windows 2000/XP/Vista/7/8/10 or Linux or Mac OS/X (using Wine emulation). Hardware requirements are very low compared to dealer-tools.
Hardware
Our OBD2 to USB PoCOM interface contains 2 multiplexed ISO9141 K-Lines and L-Line, high-speed CAN-BUS and analog measurement circuits. Supported protocols include KW-71, KW-1281, KWP2000, VW TP1.6, VW TP2.0, ISO15765 and UDS ISO14229.
Key features
Fully multiplexed all-in-one smart USB2.0 interface
Automatic ECU recognition
Automatic vehicle scan (screenshot)
ECU Identification (screenshot)
Fault code (DTC) reading (screenshot)
Fault code clearing
Freeze frame reading (screenshot)
Live data recording
Diagnostic protocol printing
Actuator tests (screenshot)
Control unit coding (screenshot)
Configuration (screenshot)
Please use
our contact form
if you wish to get more information about PoCOM.
Early release
What is not tested or not yet finished:
Configuration on 991/981/970/958 (UDS protocol vehicles) is not available, however we might be able to make some progress
Configuration on 9x7 is not tested, but most of the stuff should work
Configuration on Cayenne done via short coding (can be done using PoCOM only if you can assemble coding string manually).
Porsche 911 993 or earlier models (usually with round Porsche connector) are not tested. Durametric/Sensolutions adapter should work with PoCOM, in case of any problems, please contact us.
Panamera 971 (2017+) is not supported, however we can add it if provided with snapshots
Order
Documentation
In addition to documentation below you migh find useful also
DiagWiki.com
tutorials related to PoCOM.