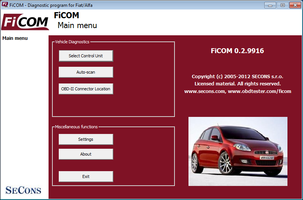 Go back to FiCOM homepage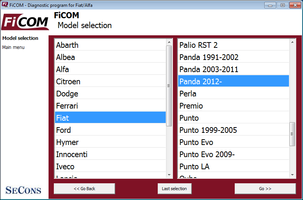 View FiCOM screenshots
Please select model:
Models not covered: Fiat Fullback is Mitsubishi platform (StarCOM will be able to diagnose these vehicles, FiCOM has very limited capabilities). For
Fiat Scudo and Ulysse
diagnostics please use
PSA-COM
(vehicles are based on Peugeot/Citroen plaform), for
Fiat Talento 2016-
please use
RenCOM
(vehicle is based on Renault platform), for
Fiat 124 Spider
(based on Mazda platform) please use
F-COM
. Fiat Sedici is based on Suzuki platform and is not supported at this moment.
Errors and omissions excepted. SECONS s.r.o. is not connected with car manufacturers in any way. This page uses trademarks that are property of Fiat S.p.A. or other owners in nominative fair use to identify car models.