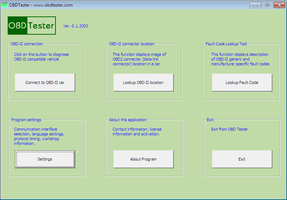 Click here for more OBDTester screenshots

Read more about ELM-USB
, an universal multi-protocol OBD-2 USB interface for use with OBDTester

This is original
high quality product
with 2-year warranty. We do not sell Chinese clones.
OBD-II protocol support
OBD-II mode support
Mode 1: Measured values, readiness code, OBD2 status (screenshot and one more)
Mode 2: Freeze frame (screenshot)
Mode 3: Fault codes (screenshot)
Mode 4: Fault codes clearing
Mode 5: Oxygen (lambda) sensor tests (screenshot)
Mode 6: Non-continously monitored tests (screenshot)
Mode 7: Fault codes (screenshot)
Mode 8: On-board devices controlling
Mode 9: Vehicle information (VIN code, part number, etc). (screenshot)
Mode 10/0xA: Fault codes (screenshot)
Functions
OBD-II status and readiness code
Identification functions
Fault codes read out

Vehicle manufacturer specific DTC codes support
DTC/Freezeframe protocol printing

Oxygen (lambda) sensor tests
Non-continously monitored tests
Measured values

Graphical and textual measured values
VCDS-compatible logging

Engine power/torque measurement (new)
On-board devices control
OBD2 connector (DLC) location image database (screenshot 1, screenshot 2)
OBDTester is optimized for use on Netbooks such as Asus eee
Program runs on various x86 platforms (Microsoft Windows, Linux, ...)
Please note that OBDTester or ELM-USB (including all other OBD2 generic tools) are not capable of "talking" to other ECUs than engine. For diagnosis of other control units such as ABS, airbag, audio or body modules you need vendor-specific software such as FiCOM (Fiat/Alfa/Lancia), FoCOM (Ford/Mazda) or HiCOM (Hyundai/Kia).
Versions
OBDTester is available in 2 versions, BASIC and PROFESSIONAL. Basic version works with every
ELM-USB OBD-II interface
and requires no special license. Professional version requires additional license. If you already have
ELM-USB
, you can upgrade to professional version using
this license request page
.
| | | |
| --- | --- | --- |
| Function | BASIC | PROFESSIONAL |
| Supported OBD-2 modes | 1,2,3,4,6,7,8,9 | 1,2,3,4,5,6,7,8,9,10 |
| CAN-BUS, J1850 and ISO support | | |
| Multi-language support | | |
| Measured values | | |
| Graphing | | |
| Fast data acquisition | | |
| Logging to file | | |
| Fault codes reading | | |
| Manufacturer-specific fault codes | | |
| Mode 10 support | | |
| Customer report printing | | |
| Freeze frame | | |
| Oxygen (lambda) sensor tests | | |
| Engine power/torque measurement | | |
Translations
| | | |
| --- | --- | --- |
| Language | Program | Fault codes |
| English | Yes | Yes |
| Czech | Yes | Yes |
| Croatian | Yes | No |
| Greek | Yes | No |
| Hungarian | Yes | No |
| Dutch | Yes | No |
Requirements
PC desktop, notebook or netbook with USB port(s)
Microsoft Windows 2000/XP/Vista/7 or Linux/FreeBSD
256 MB of RAM