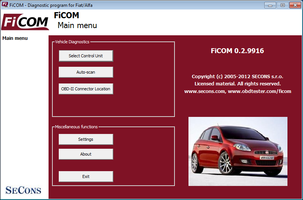 Go back to FCOM homepage

Latest FiCOM version
is
?
2019-04-10 0.2.12702
Improved live data coverage for over 200 control units
2019-04-03 0.2.12680
Fixed issues with scarce EDC17 control units
2019-02-27 0.2.12497
Improved engine measured values for Iveco Daily
2019-02-20 0.2.12459
Added DPF regeneration coding to all Fiat diesel engine ECUs
2019-02-19 0.2.12421
Initial support for Peugeot scooters (with Piaggio engines)
2019-02-18 0.2.12419
Fixed problem with live data on multiple Iveco Daily Bosch EDC17C49 ECUs
2019-02-14 0.2.12335
New firmware with improved functionality
2019-01-15 0.2.12271
Added initial support for Peugeot motorcycles
2019-01-14 0.2.12267
Improved support for Ducati Multistrada 2015+
2019-01-04 0.2.12219
Added PCM/INJ/ECM self-learnt configuration viewing
FiCOM Interface Upgrade
After Fiat merge with Chrysler (the group is now called Fiat Chrysler Automobiles NV) several changes in Fiat vehicles were introduced. In order to support the latest Fiat models, including Fiat 500X, it was necessary to design a new diagnostic interface, that covers also these new platforms. Please note that FiCOM diagnostic interface does NOT cover Chrysler (US-made) vehicles.
All customers who purchased diagnostic interface in 2016 from us have the new interface, thus no upgrade is necessary. If you have purchased earlier, you can upgrade your diagnostic interface (fee applies).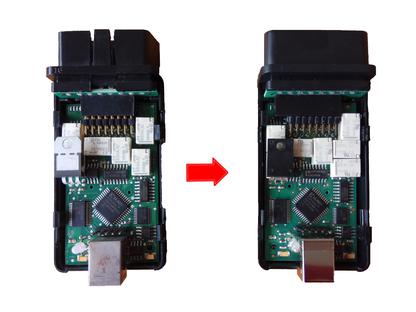 The first generation of FiCOM diagnostic interface looks visually same as the new generation, however it has significantly improved hardware inside. You can easily distinguish between diagnostic interface types in FiCOM Interface test.
Order
We will ship replacement ("upgrade") interface after we receive both payment and the old interface from the customer.
Customer is responsible for delivering the old interface to
our office
(registered post is recommended). Please do not forget to include your order number when shipping the old interface.